Modern symbols of environmental protection: Seightseeing train between Skalní mlýn and Punkva Caves and aerial tramway up to the Upper Bridge of Macocha Abyss. As the train and the tramway were suitably integrated to the system of movement of the visitors in this frequented part of the Moravian Karst, cars were successfully excluded from this unique area. Believe us, the view from the tramway down to Macocha will take your breath away once you see the elevation difference. Come visit us and see for yourself!

The transport of visitors from the parking lot atSkalní mlýn to the Punka Caves has been secured by two trains since 1993. Their timetables are synchronized with the entrance times to the Punkva Caves. Regular intervals of 20 or 40 minutes correlate with the caves' entrance schedule. There are sufficient capacities available so even in the most frequented days there is no reason to worry that you will not get to the caves on time.

Macocha Aerial Tramway provides the connection from the Punkva Caves to the bridges and the Macocha Chalet since 1995. It is considered to be one of the most eco-friendly means of transport, moreover, since it is situated in its natural environment effectively and thoughtfully, there is no doubt about its importance. We have successfully transported hundreds of thousands of visitors in the 20-year history of its existence. It is a practical alternative for all the visitors of Moravian Karst who don't want to or cannot walk. Its route passes the limestone rocks so a spectacular view is guaranteed.
Price List
| Sightseeing Train | Return | One-way |
| --- | --- | --- |
| Adults | 140 CZK | 100 CZK |
| Children, students | 100 CZK | 80 CZK |
| Cable lift | Return | One-way |
| --- | --- | --- |
| Adults | 140 CZK | 100 CZK |
| Children, students | 100 CZK | 80 CZK |
| Combination | Return | One-way |
| --- | --- | --- |
| Adults | 240 CZK | 180 CZK |
| Children, students | 180 CZK | 140 CZK |
Parking
Car
100 CZK
Motorbike
50 CZK
Bus
300 CZK
Caravan
200 CZK
Free
Children under the age of 3 who are not part of an organized children's tour
Discounts
Children of the age of 3 to 15, organized tours of children up to the age of 3
Owners of ZTP (severe health disability) card and ZTP/P (severe health disability needing special assistence) card
Students; on presentation of a valid student ID card
Opening hours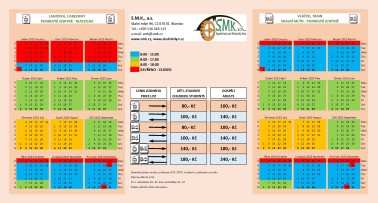 Technical Specifications
Sightseeing Trains:
Launched: 22 May 1993
Route length: approx. 2 km
manufacturer: Tschu-Tschu Bahnen, Germany
Motor type: Nissan
Number of trains: 2 (winter, summer)
Year of manufacture: 1993
Speed: up to 25 kph
Station of departure: Skalní mlýn
Terminal station: Punkva Caves (Punkevní jeskyně)
Length of ride: approx. 10 min
Aerial Tramway:
Laying of the foundation stone: 27 June 1994
Launched: 6 May 1995
manufacturer: Doppelmayr, Austria
Altitude of the bottom station: 361.83 meters above the sea level
Altitude of the upper station: 492.92 meters above the the sea level
Length of ride: 2.05 - 2.12 minutes
Elevation difference: 131.9 m
Number of supports: 2
Slope distance: 249.31 m
Number of cabins: 2
Transport capacity (persons per hour): 353
cabin capacity: 15 persons
Speed: 2.5 m/s
Average slope: 63.41%
Cable diameter: 41.00 mm
Map